SUNDAY SCHOOL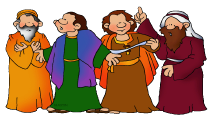 GOD called various prophets at different times for specific purposes. Included in this unit are the calls and responses of Moses, Isaiah, Jeremiah, Ezekiel, and Amos. In each of the lessons, the recurring response of the prophet is "here I am."
I, the Lord of sea and sky, I have heard my people cry. All who dwell in dark and sin My hand will save. I who made the stars of night, I will make their darkness bright. Who will bear my light to them? Whom shall I send? Here I am, Lord.
CLASSES FOR ALL AGES 9:30-10:30 a.m.
July: Unit II-Calling of Prophets
2: That's Not Fair (Exodus 3:1-12)
9: Who, Me? (Isaiah 6:1-8)
16: You Can Do It (Jeremiah 1:4-10)
23: Speak the Truth Anyway (Ezekiel 3:1-11)
30: Facing Hostility (Amos 7:10-17)

"HERE I AM"
Every Sunday 9:30-10:30 a.m.