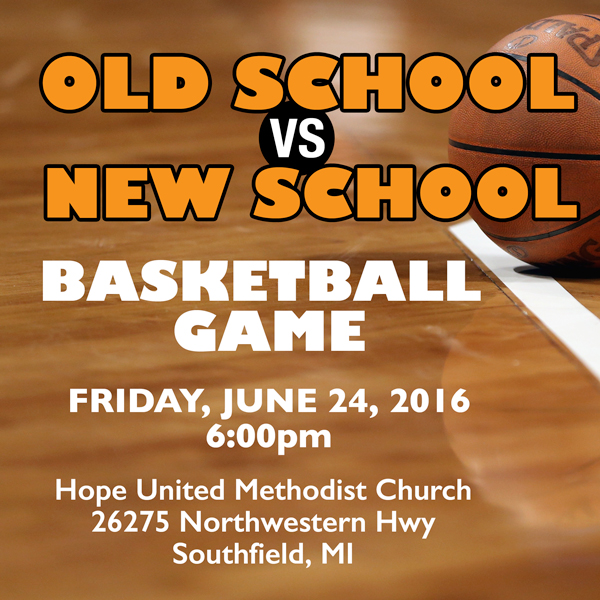 FRIDAY, JUNE 24, 2016 – 6:00pm
OLD SCHOOL VS NEW SCHOOL BASKETBALL GAME
The men of New Prospect will host a night of fellowship and basketball at Hope United Methodist Church, 26275 Northwestern Hwy, Southfield, MI. There will be two teams playing in two games. One team will consist of the "new school", ages 12-26 and the other team will consist of "old school", ages 26 and up. Please sign up to play on either team at the table in the atrium after both worship services TODAY. For more information or questions, please contact Rev. Carnel Richardson at 313-341-4204.
ALL
are welcome to come out and support the teams!!!
*****
***BROTHERHOOD MISSION PROJECT***



ATTENTION MEN OF ALL AGES!!!
Two Opportunities to Serve and Shine!
Friday, June 24, 2016 at 12:00 noon, we will need your assistance, at the church, to pack lunches for our Mission Project.
Saturday, June 25, 2016, please meet at the church at 9:30am. We will be providing lunches and encouragement to those who are in need.
Come out and add your energy and care to this effort.
*****
SUNDAY, JUNE 26, 2016
Annual Men's Day Celebration
Guest Preacher: Rev. Dr. Damone Johnson
Metropolitan Baptist Church, Albany, NY