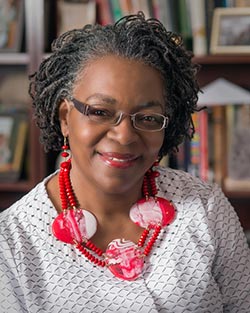 In 1999, New Prospect Missionary Baptist Church listened to the Holy Spirit and called Rev. Dr. Wilma Robena Johnson as the Senior Pastor. When she became Pastor, she promised the congregation that she would do four things: Preach, Teach, Love and Pray! Sixteen years later, Rev. Dr. Wilma R. Johnson and New Prospect have become synonymous with "SHINING" AND "LOVING" throughout the Metro-Detroit area, the Nation and the World! Pastor J, as she is lovingly referred to by the congregation, stands each Sunday, proclaiming the Gospel to her, ever growing, congregation adn closes each sermon with a muscial selection.
In 2014, Dr. Johnson recorded her first musical offering, "Giving Away My Joy", which is named after her first published literary work under the same name. Her most recent recording is entitled, "Look What The Lord Has Done". She is also a published author and recently completed her second book, "Unshakeable Joy".

Dr. Johnson holds degrees from William Tyndale, Marygrove College, Ecumenical Theological Seminary, American Baptist College and she holds a certificate of completion from the Leadership Institute at Harvard University. She currently serves as Congress President of the MIchigan District Baptist Association of the B. M. and E. State Convention, National Baptist Convention, Inc.

She is a higly sought after preacher, teacher and workshop presenter, and, Dr. Johnson has declared that she will continue to do that which keeps her alive: Preaching, Teaching, Loving and Praying!

Dr. Johnson and her husband, Deacon David L. Johnson, have two adult sons, David Lawrence and Brian Langston and one daughter-in-law, Corene and a precious grandson, Ellington David Johnson.